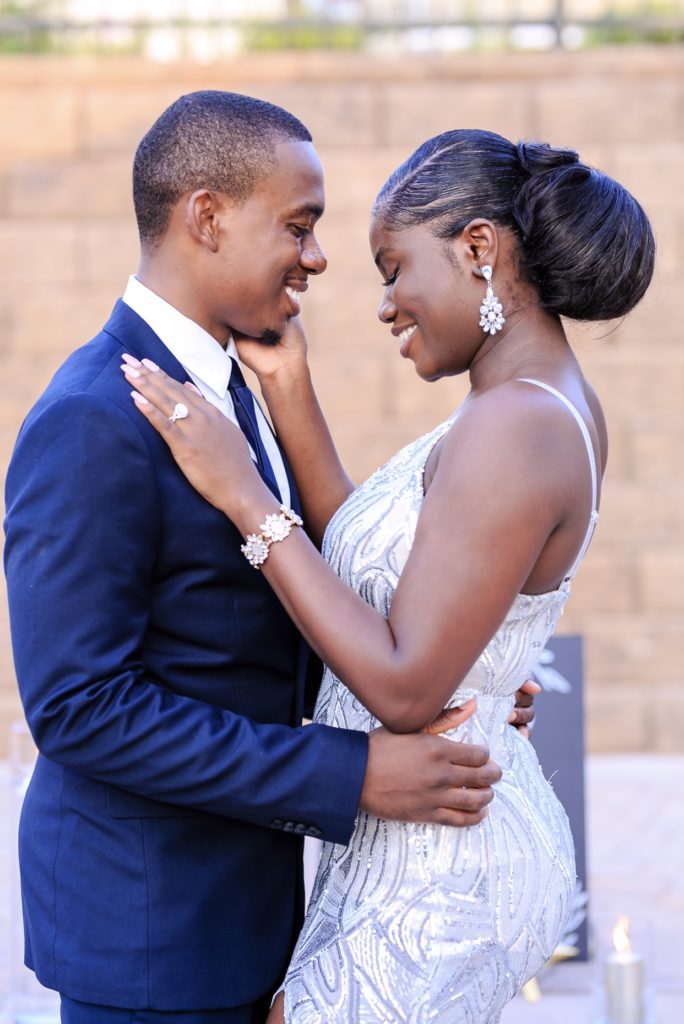 PHILLIP AND TINA: A SURPRISE PROPOSAL
---
---
Let's start from the day before the proposal.
I had an amazing birthday dinner the night before with my fiancé (saying it just gives me goosebumps), friends, and family.
However, I must say I was a little annoyed leading up to my birthday dinner and even after.
The day before the proposal everything was just off. Some of my closest family and friends had called to cancel for the dinner.
My make-up artist bailed on me on the day of my dinner (Thank you to my best friend Jessica @jessspectacular_ for coming through and making me look amazing for the night!).
Even my photographer ran into some car issues. It seemed as if everything wasn't going right.
I kept my spirits up and did my best to enjoy the day.
My second reason for being a little annoyed was that dinner was perfect.
So perfect, I thought to myself this is his shot (my fiancé) to just get on one knee and say those four words!
My fiancé even said a brief thank you to my guests and I just knew what was going to take place.
I later found out that he had been asked to purposefully get my hopes up!
However, the dinner went by no proposal, just smiles and laughter the entire night.
The next day started as a regular day.
Well, it wasn't that regular because it was my birthday.
It was also a Sunday which meant that I definitely had to be at church to thank God for adding another year to my life.
I attended church with my fiancé. Can I just say that church was amazing!
Every Sunday, the pastor always calls up everyone that is celebrating their birthday for a prayer.
Usually, it's a simple prayer. However, on this day during the prayer, my pastor told me that I was going to receive a special gift.
He challenged me to sow a seed. It was the craziest thing I'd ever experienced because my pastor went an extra step to even ask my fiancé to join in front of the church for a prayer.
I should've known something was up but I was just stunned by their entire thing (My pastor had no clue about the proposal by the way)! Church was over and it was time to go home.
Philip, my fiancé, told me that he would be taking me out for dinner but wanted to go see a friend.
So he left me at the house and I went about my regular Sunday activities (cooking, lounging, and cleaning).
I found out that he was meeting up with one of my best friends Stephanie (@sosweetmoments) who happened to also be an event designer and coordinator to go over the plan for the evening.
Philip went behind my back 3 months ago and contacted my best friend, Stephanie (@sosweetmoments), to put together a special proposal.
She created a planning committee with my sister-Inlaw, my older sister Abigail, and my fiancé).
After months of vigorous planning, the day had finally arrived. Philip, my fiancé, returned back to the house from his "friend's place" to get ready for our dinner.
Keep in mind that I'm still upset at him for not proposing and my friends for not showing up to the dinner.
He told me that he had to go pick up something from a friend on our way to dinner.
I honestly went with it. I had literally no idea what he had in store for me. Once we got to the front of cousin's clubhouse, he called him to let him know that we were there.
My cousin came out front and led us to the pool area of the clubhouse.
I have really bad eyesight so I couldn't see what was ahead of me just still following my fiancé lead.
As we continue to draw closer, I saw a beautifully candlelit setup with a sign that says: "Philip and Celestina 7.23.17".
Everything after this was a complete blur because I was floored. I always thought my fiancé couldn't surprise me but with his amazing planning committee, he did more than surprise me.
He pulled me closer and started to recite his carefully thought out proposal speech. Before I knew he was on one knee and all my loved ones were gathered around us.
I really couldn't hold back the tears any longer. I cried like a baby. Literally.
When he opened that box I was breathless. He asked me to be his wife and once I was able to gather up my thought and words I said "YES"!
I couldn't believe that my fiancé took that much time to plan us an unforgettable proposal that would last us a lifetime!
Afterward, we took tons of pictures with our amazing photographer (@ijohnsekyere).
They even had a videographer (@snipashotfilms) capture the entire evening. It was everything I could ask for and more!
VENDORS
 @sosweetmoments for décor and concept,
@ijohnsekyere for photography,
@snipashotfilms for amazing videography,
@hairbymicdiva for hair,
@jessspectacular_ for styling and my amazing planning committee .
A huge thank you to my fiancé for being the man of my dreams!
---
---