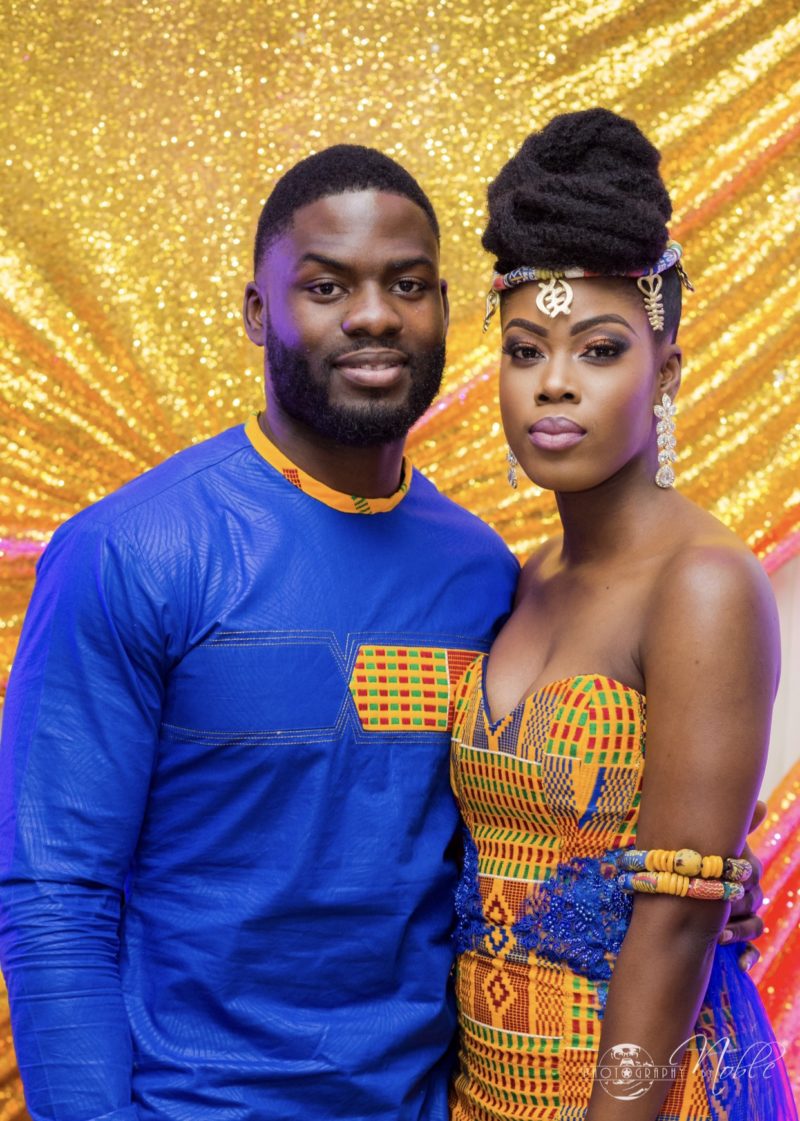 NII & ADJOA: WHEN GOD SAYS YES
---
Our love story is actually really interesting. In July 2012, I came to the USA for the first time in my life, as part of a 'Study Abroad' program in my 3rd year as an undergrad student.
I had been in the country for about a week and was staying with my cousin in Georgia to get a little settled and familiar before I went off to school in Kansas.
So this is where it gets interesting, I went to church with my cousin my first Sunday in the Georgia and whilst we were walking in (bear in mind we were late),
I noticed Nii and his family walking in at the same time, He stopped outside to talk to someone and I was thinking to myself "instead of you to hurry and go inside because you're late, you're out here talking".
I don't even know why that thought even crossed my mind, or why I cared because I didn't even know him but it was just annoying you know?
Anyway, we somehow ended up sitting on same row. I was really into the sermon making notes and everything, when I saw my cousin stretch and tap Nii and ask "How old are you?"
He looked so confused and replied "20"… I was so confused at this point too.
Then she said "Great! my cousin is in town from London and she has no friends so you're taking her out tomorrow" I couldn't believe what had just happened.
But she wasn't lying, I had been home all week and really needed to get out of the house so I couldn't even be mad at her.
We exchanged Facebook details after church, and sure enough there he was the next day at my cousins house, ready to take me out.
We had a good time and saw each other again the day after.
I wasn't feeling him at all at the time, I had a boyfriend back in London and as far as I was concerned the two of us were destined to be nothing but distant friends.
I went off to Kansas and he tried reaching out to me via Twitter and Facebook but ignored him.
I didn't see him again until Christmas break, we spoke and it's like all of a sudden something was different and that's it.. we got closer and closer.
I moved back to London, but we decided to keep what we had going.
We were long distance for 4 years and trust me it was one of the most difficult things we have both had to do.
Our relationship hit some really low points and we almost completely gave up on each other and our love, BUT one thing we've realized throughout this whole process is that, God's word is final, & when He says YES nobody can say NO.
When God is the foundation of a relationship, no matter what storms come that foundation is never shaken.
On July 4th 2016 during my summer visit, we went to a family cookout and I had no idea he was going to propose.
We were playing a game guys vs girls, and when it was both our turn to face each other he got down on one knee and asked me to be his wife.
I was not expecting it at all and it was such a beautiful moment surrounded by friends and family.
We had our Traditional Marriage on Feb 11th 2017 in London and are planning to have the White wedding in Georgia in December 2017.
Looking forward to doing life with my soulmate, with God at the center, ALWAYS.
THE TRAD
(photos by photography by Noble)
---
---