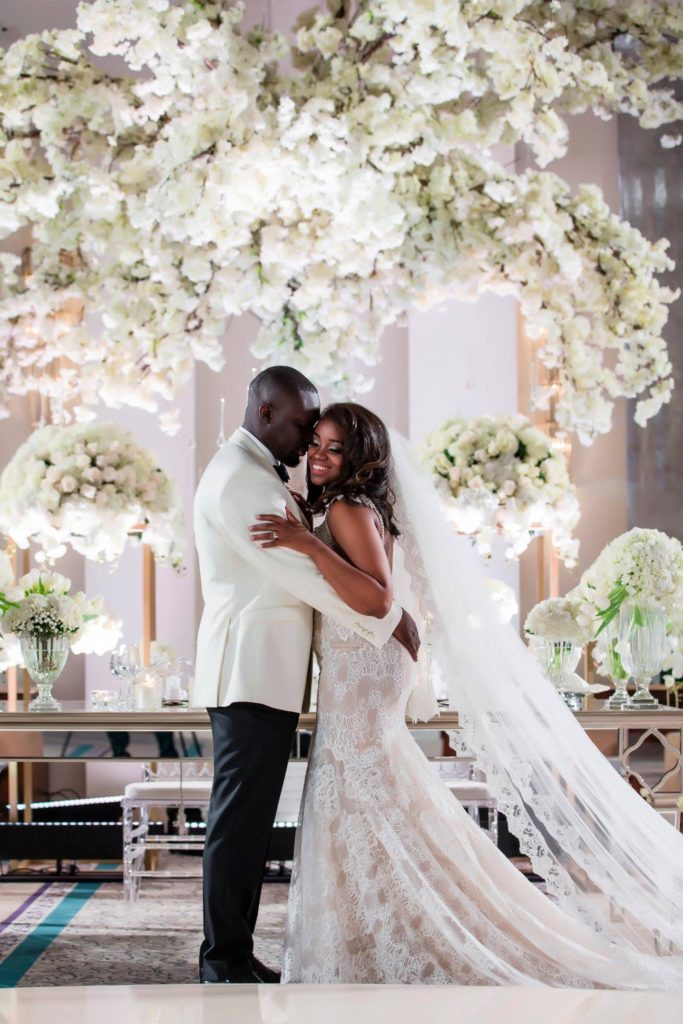 JULIAN & AISHA: A FAIRYTALE WEDDING IN DUBAI
---
THIS WEDDING IS FEATURED IN OUR CURRENT WINTER ISSUE, TO ORDER CLICK HERE
Well! What had happened was….The year was 2005…
Aisha used to be part of a Hip Hop dance company called I.K., which stands for Ill Kids ("ill" as in slang for great, wonderful, superb, fabulous…you get the picture).
Also in this group was Azuma (see Maid of Honour) who is cousin's with Jules. Jules used to come and watch his cousin at rehearsals, and quite possibly all the other girls…we'll leave that to you to decide…
Aisha and Azuma became close and soon learned that Aisha's mum (Marie) taught one of the housing classes that Azuma's mum attended.
Aisha spent lots of time (as did lots of other I.K. members) at Azuma's house in Chadwell Heath, rehearsing routines, cooking and having sleep-overs.
Jules, who lived in Walthamstow at the time also spent lots of time at Azuma's house, not rehearsing routines but eating and having sleep-overs.
Jules expressed an interest in Aisha, mainly by blocking the entrance way to Azuma's kitchen and requiring a penalty to be paid to gain access and generally being annoying.
Aisha was not impressed…
It took three years of hard work, growing up, a haircut and a change in approach for Jules to get through to Aisha…but she still wasn't giving in that easily.
One day, on the way to the bus stop in Stratford, Jules told Aisha she was the kind of smart, beautiful girl he wanted to marry some day because there was something different about her.
Aisha thought they were both far too young to be talking about marriage, but nevertheless they started dating a couple of months later.
Things were rosy for a while but life had other plans in store and they broke up after 2 months.
This is where the story gets grey because Jules and Aisha have different versions of who broke up with who.
Since every story needs a bit of mystery, we'll leave you to decide what happened…
Friends all the while, Aisha and Jules went on their separate journeys, they both got engaged to other people and Jules had a beautiful baby boy, Malachi.
RECONNECTION
It was the year 2013 and Aisha moved into her first house.
As is customary, she threw a house warming party and invited close friends and family, old and new…
Jules came along to the party with his cousins Azuma and Michelle and slowly but surely, the rest as they say,
is history…
WANT TO PLAN A DUBAI WEDDING/ HERE ARE SOME TIPS FROM THE COUPLE…
If you're not Muslim, getting legally married in Dubai can be tricky. It is possible but if you're hoping for a church wedding or have any other specific requirements it may be easier to get married in your home country. There are only about 2 churches in Dubai where you can get married otherwise the embassy is one of your only other options. We were also told that everything had to be translated into Arabic and as we don't speak or read it, we decided to have a legal ceremony in London
Following on from the above some venues may require you to be legally married before you hold a wedding celebration / ceremony
Get a wedding planner! We live in London so Dubai is 4-5 hours ahead of us and having to work with vendors with that time difference can be frustrating. We work long hours so most of the time we have for "wedmin" is after 6pm by which time it's already 10pm and most people are signed off…with that said…we have found that a lot of people work pretty long hours so may still be picking up on emails late into their night time.
Alot of business is conducted on WhatsApp. We're used communicating by phone and email with most businesses in the western world, but in Dubai there really is a focus on building personal relationships and so a lot of companies will have a mobile number that you can use to message individual contacts, all of which leads to a much more tailored and personal service.
You can get anything your heart desires in Dubai (within reason and in line with local law of course), as long as you have the money for it…
Make the effort to visit your venue and build relationships with the events team. Even though I knew we had amazing wedding planners who were very detail oriented I didn't feel truly comfortable until I met everyone face to face and walked through the space
Be very specific with what you want! We know that weddings in Dubai are big business and most venues pull together immaculate three day weddings with 1,000 in their sleep, a large proportion of the weddings are Arabian or Asian, and their weddings are quite different to the type of feel we were going for. In the end what we got was far beyond our expectations but it took a lot of conversations and exchange of cultural knowledge to get there.
For example, I'm half Ghanaian and my husband is Ghanaian so red and black are considered funeral colours. With Asian weddings, red is a prominent colour for weddings so that colour might be the default choice.
Likewise all our initial quotes included a stage which is usually the central focal point of the entire wedding so if that's not your dream, speak up!
Pay close attention to the weather! If you're planning on an outdoor wedding, be sure to check, recheck and phone a friend in Dubai. Dubai temperatures can get well up into the 40s (Celsius) during summer which may not be ideal for an outdoor wedding in a big ball-gown…
Having said that we did get married at the end of summer but as I love high heels too much to have a beach / garden wedding it wasn't a problem. Plus our venue was perfectly air-conditioned and lots of natural light from enormous windows. The plus side of having a summer / end of summer wedding is that it's not wedding season and you're more likely to get some discounts and more attention as all the vendors will be a little less busy…
Carry your outfits as hand-luggage. Most airlines are pretty accommodating and happy to help keep your precious outfit safe – during all our trips my dress was either hanging in a suit cupboard or had it's own seat in first class (where there was space). Just be sure to check the airline's website for allowances and double check with the airline staff at the airport who will happily advise you on the best way to keep your dream dress safe from being crushed, lost or worse…
Finding a great MUA was no problem at all. In my opinion the ladies in Dubai are always flawless. However I have natural afro hair and finding a hairdresser was NOT easy. I asked around for lots of recommendations but wasn't 100% confident in any of my options, (though I am super paranoid when it comes to my locks). I definitely didn't want to have any weave or extensions so myself and one of my gorgeous guests tackled my hair (and all the bridesmaids) on the day. I'm convinced there is someone would could have done a great job…I just didn't find them….If I could have flown a hairdresser from London I really would have!
You can find anything you want but you may have to pay a premium…Dubai is a shopaholic's dream…fact! I wanted a specific pair of Christian Louboutin Follies Strass heels and really hunted hard to track them down across London and the US with no luck. One quick trip to Dubai mall and I found them immediately and in my size! However they were nearly £300 more expensive than they would have been at home. Just saying…. In the end I emailed Christian Louboutin customer service in Europe they very helpfully tracked down a pair for me a little closer to home.
Take the time to chill! We were so blessed to have so many friends and family fly out for us and planned non wedding activities so we created lots of wonderful memories and really had the time to speak to all of our guests. Instead of a traditional restaurant welcome /rehearsal dinner we drove into the desert and had a buffet bbq dinner along with some traditional entertainment (including belly dancing and drumming).
We also had a yacht lunch on another day and went to the waterpark. On the actual day of the wedding, everything went by so fast that it ended up being really important to have those other events otherwise we wouldn't have been able to spend quality time with our guests. Having "extra-curricula" activities also helped us de-stress and just focus on having fun, and of course gives all the guest to get to know each other which makes for a more comfortable and fun reception. Dubai has so much to offer and the activities aren't as expensive as you might think!
Plan an exotic honeymoon. If you're getting married in Dubai, you're only about a 4 hour flight from arguably the most romantic honeymoon destination in the world: the Maldives! you're also a 1 hour drive form Abu Dhabi or a 1 hour flight to Oman. There is an abundance of exotic locations within easy reach of Dubai, so whilst you're already out there why not take a short trip for your honeymoon. With that said Dubai is pretty awesome as a honeymoon destination in itself so you could just stay put….
VENDORS
Bride's Gown: Berta @berta
Bridal Salon: Anjolique Bridal (US)
@anjoliquebridalandformal
Alterations: Elite Alterations @elite_alterations
Veil: Custom from David's Bridal @davidsbridal
Bride's Shoes: Christian Louboutin @louboutinworld
Jewellery: Cadenza
@cadenzza_jewellery
Wedding Ring: Lonam Jewellery (my company) @lonamjewellery
Bouquet: Event Chic Designs
@eventchicdesigns
MUA: Fazmina @ladymascara_dxb
Hair: Ramona @amfashion
(my sister's friend)
Hair Colour: Gemma from Smiths Soho @colourbygemmasmid
Groom's Suit: Bespoke from Jack Bunneys @jackbunneys
Shoes: Christian Louboutin
@louboutinworld
Wedding Ring: Zales (US)
@zalesjewelers
Adinkra Cufflinks: Lonam Jewellery @lonamjewellery
Hair: Beats and Cuts Barber
@beatsandcuts
Bridesmaids Dresses: White Runway @whiterunway
MUA: Fazmina @ladymascara_dxb
Hair: Ramona @amfashion
(my sister's friend)
Groomsmen Suits: Yardsmen
@yardsmen
Adinkra Cufflinks: Lonam
@lonamjewellery
Venue + Catering & Accommodation: One & Only Royal Mirage (Arabian Court), Dubai
@ooroyalmirage
Wedding Planner + Decor : Event Chic Designs @eventchicdesigns
Vegan Cake: Event Chic Designs
@eventchicdesigns
PhotoS: Blue Eyed Pictures
@female_photographer_dubai
Wedding Website: The Knot
@theknot
Travel Consultant: Petra Weidl from Travel Counsellors (Dubai) @travelcounsellors
---
---