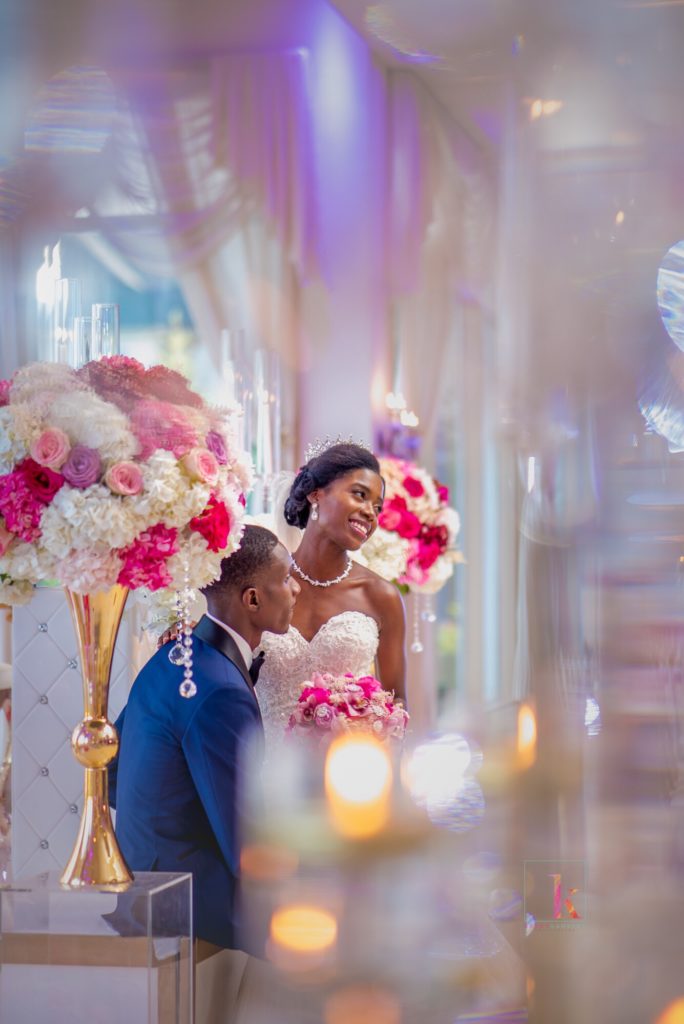 GLAYS AND SOJI: ANOTHER CHANCE
---
How They Met (From the Bride):
Soji and I actually met for the first time in Los Angeles, 8 years ago, at our church's annual youth convention.
We hadn't met before that because I attended the Queens branch of the church, and he the Bronx.
THE TRADITIONAL WEDDING
I vividly remember that I was catching up with some friends from the Atlanta branch near the pool area, when he and his friends started throwing around a football near where we were standing.
The boys that he was playing with were mindful about making sure the ball stayed out of our vicinity but pretty much every time Soji threw the ball, we were ducking out of the way.
He had absolutely no regard for the fact that our group was standing only a couple of feet away.
I finally asked him to stop throwing the ball near us and to go play somewhere else because honestly, I was tired of having to look out for the football that continued to come at us like a missile every minute or so.
However, instead of moving his game further away from us, he started to berate me for telling him to move, or in his words "what to do".
I was incredulous that he actually had the nerve to argue when he had already hit us with the ball multiple times.
After some choice words between the two of us, we ignored each other the rest of the convention. The exchange lasted a couple of minutes but I remember thinking how much I couldn't stand him and his cocky attitude and thanked the Almighty God he didn't attend my branch!
Fast forward three years later to a mutual friend's birthday party. When my friend and I got there, I remember seeing him and immediately feeling a little disdain because I remembered his attitude.
I made it a point to stay away from him. After some time, he approached me and began to talk to me like an actual gentleman.
He had actually forgotten how we first met but my friend "kindly" reminded him about his previous behavior.
After some small debate about who was right, he apologized and offered to start over.
I was hesitant but played nice because of our church ties… and his height lol I actually found him to be quite entertaining the entire event and was willing to give him a chance when he contacted me the next day.
And now here we are!
VENDORS
Bride: Gladys Oluwatukesi
Groom: Soji Oluwatukesi
Wedding Planner: Victorious Events NYC (www.victoriouseventsnyc.com)
Floral Design and Decor: Lily V Events (www.lilyvevents.com)
Photography and Videography: DFams Photography (www.shotbydfams.com)
Stationery: Parchment by Dami (www.parchmentbydami.com)
Hair: Curls by Rachael (www.instagram.com/curlsbyrachael)
Makeup: Adeola Akerele (www.instagram.com/facesbydeola)
Gown: Kleinfeld Bridal (www.kleinfeldbridal.com)
Veil: Pantora Bridal (www.pantorabridal.com)
Groom's Tuxedo: Acustom Apparel (www.acustom.com)
Cake: Buttercooky Bakery (www.buttercookybakery.com)
Traditional Wedding Venue: Royal Regency Hotel New York (www.royalregencyhotelny.com)
White Wedding Ceremony Venue: COGA Cathedral (www.cacwosembronx.com)
White Wedding Reception Venue: Greentree Country Club (www.greentreeclub.com)
MORE PHOTOS
{BY KESHA LAMBERT PHOTOGRAPHY}
---
---